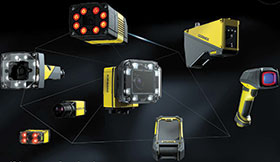 August 2017, Sensors & Transducers
Image-based barcode readers are rapidly replacing laser scanners in a wide range of industries including food, beverage, consumer goods, pharmaceutical, and logistics, but when considering a transition from laser scanners to image-based barcode readers many think the investment cost is too high.
Thanks to advances in technology, image-based barcode readers are now not only comparable in price to laser scanner technology, but are also more powerful. Today's most advanced image-based barcode readers have overcome the technical and economic hurdles and now offer a more attractive alternative to industrial laser scanners on the factory floor. In use, the latest generation of image-based barcode readers has proven to actually outperform lasers.
1. Read rate performance: read rate (the ratio of number of successful reads divided by the number attempted) is the most important measure of how reliable and robust the reader is for the barcodes seen in practice:
• Image-based readers view the entire barcode, not just a single line as do lasers, so they can use advanced algorithms to overcome code damage issues that cause laser scanners the most trouble.